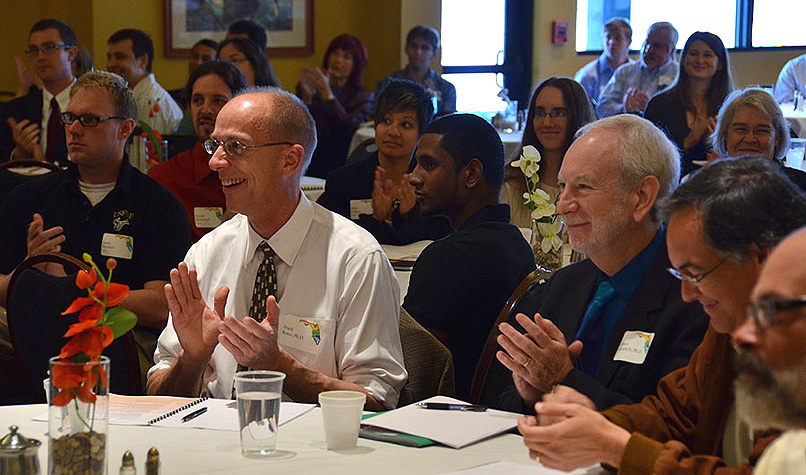 25th Annual Southwest Florida Water Resources Conference | January 15, 2016 | Cohen Center Ballroom, FGCU

This year's theme "Here We Grow Again" recognizes our region's emergence from recent years of low growth into a time of increasing demands upon our water resources. The conference will address Southwest Florida's population growth and how it will affect our water quality and supply. As always, we have arranged for presentations by some of the leading experts in water resources, and will include some of the top decision-makers responsible for water resource planning and management in Southwest Florida, the State and the Nation. Registration will open at 8:00 a.m. Sessions will conclude around 4:30 p.m. and will be followed by a networking social.

The conference brings together researchers, managers, agency staff, consultants, and other interested parties to discuss ongoing scientific research and innovative projects, to share ideas, and to increase awareness of the issues of water supply, water use efficiency, waterbody protection, watershed health, and environmental sustainability facing Florida.

As has become its tradition, the conference is Florida's premier student poster contest for water resources students statewide. Cash prizes are offered for the best research posters, with first, second, and third-place awards in two divisions, graduate students and undergraduate/high school students.



---------------------------------------------------------------------------------------------------------------------------------------------------------------


2016 Steering Committee:
Karen Miller, Roxanne Gause, Don Duke, Ron Edenfield, Dan VanNorman, John Capece, Andy Tilton,
Edwin Everham, Mary Rawl, Kristoph Dietrich Kinzli, James Ink, Sergio Guzman,
Robin Palmer, Nargis Abduvohidova, Jonathan Wadas, Wes Kayne,
Christopher Griffin, Liz Donley, Jessica Goodstein.